SEO can propel your site to the Upper Echelons of the Search Engines...
Utilizing established advanced Search Engine Optimization techniques, let our expertise help drive highly qualified traffic take your website to levels you had long ago abandoned hope for.

We offer a full menu of internet marketing solutions that will provide your business with immediate and measurable results. Built around the core task of placing your site on the first page of Google, Yahoo, & MSN, (aka SEO), we then compliment these results with other proven menu items to develop a comprehensive marketing plan to make your Internet business the success you've always wanted it to be.

Using various proven and reliable search engine optimization techniques and technologies, you can not only register with the Search Engines, you can propel yourself into the upper echelons of the Search Engines, so you will always be there when someone is looking.
What you can expect from Web Feat SEO Services

Make your site focused and relevant
Write lots of search engine friendly content
Acquire relevant inbound links
Ensure that inbound anchor text is relevant
Utilize deep linking
Use alt tags
Create a sitemap
Optimize your title tags
Write and submit articles and press releases
Submit an XML sitemap of your website to the search engines
Make all changes look natural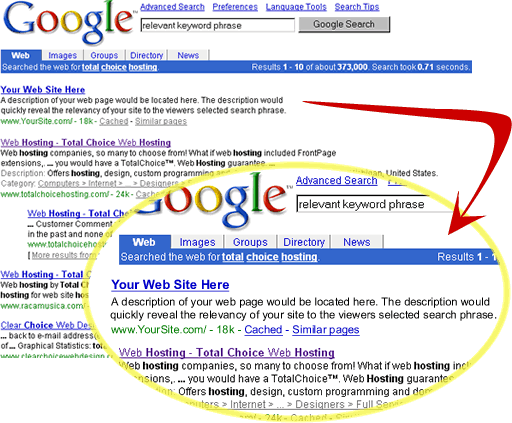 Registering with the Search Engines is NOT enough these days. Registering simply means that you are there. Probably on page #187, though. And let's face it, who really scrolls all the way down to page #187? Statistics show that folks seldom make it to Page 3. You NEED to be in the Top Pages!
Each Search Engine has their own rules, by which they decide where and when to put your site. If you know these rules, you can play by them. They look for certain things, words, phrases, links, and other items and features of your site. If you do not have EXACTLY what they are looking for, your position is with them is in jeopardy forever. And to make things even a little more complicated, their rules are constantly evolving and changing as these Search Engines compete to be the best and aquire more customers. What worked a couple of years ago is only a small slice of what is required today!
We know the Rules. We manually register you with all of the Major Search Engines. Not 9000 Search Engines, because statistics show that 95% of the public uses the top 5 Search Engines. We Register you with all of the TOP Search Engines. Then I personally make sure that your pages conform to what they look for.
If you give your website a well deserved optimization, then like a balloon escaping from your hand, you will see your site gradually and constantly rising into the top pages of the Search Engine. It is not an overnight thing, it will take from 3-6 months, depending upon how regularly the Search Engine re-indexes (or updates) itself.
If you are interested in having someone just as dedicated to the success of your web site as you are, contact me today. It could make the difference between the success or failure of your website.
Contact Info
Anthony Vita
Web Feat
http://www.WebFeatWorks.com
(540) 464-3825